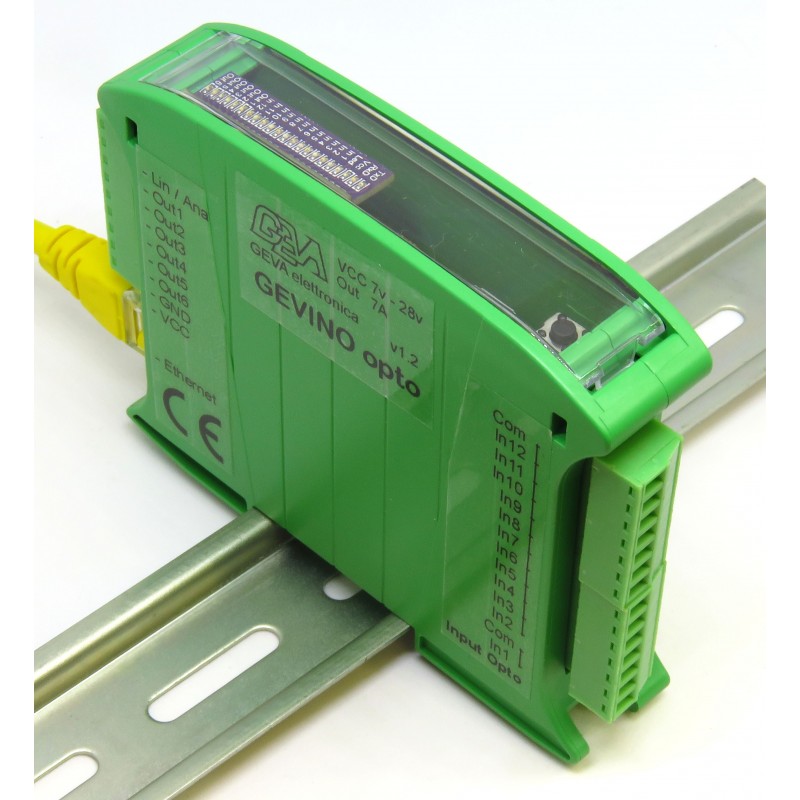  
GEVINO opto PNP - PLC
PNP PLC Compatible Arduino Zero
Available

PayPal protection

Fast Delivery
The GEVINO opto is certainly the least expensive of the PLCs, nevertheless it has excellent characteristics, such as 11 opto-insulated double-polarity inputs, 4 Short Circuit protected outputs, SD card, LIN bus to parallel multiple modules or expansions. Inductive loads, electrostatic discharges and electromagnetic disturbances are protected. It has options such as Ethernet, Wi-Fi, Bluetooth, RTC, RS232, RS485, cellular modem and CE marking.
Arduino Zero compatible
Supply, inputs, outputs 7V /40V
11 opto-isolated inputs, double-polarity common
4 PNP Output 40V 2.5A, Short Circuit Protection, for Resistive, Capacitive, Induttive load.
2 analogue input 20mA / 1V / 10V  12bit
1 RS485 port with which to parallel up to 255 gevini, or m-bus, or other.
On the front, behind the flap:
      SD card
      Micro USB
      Led inputs, outputs, serial, power
      Reset button
Optional module Ethernet RJ45
Optional module WiFi ESP

48 Mhz, 32-bit ARM Cortex - M0+ processor.
Flash 256KB, RAM 32K


You can update the program in the GEVINO from the Internet or SD card with a dedicated bootloader.
Debug via Ethernet Telnet
Programming via Ethernet FTP (Asking SD bootloader)
3 enclosures, of different thicknesses:
Thin 17.5mm black, for the only card without accessories.
Medium 22.5mm green,for accessories such as Ethernet, RTC, Wi-Fi, Bluetooth, GSM modem.
Thick 35mm black, for accessories such as RS232 on DB9 female, Li-Po battery with battery charger.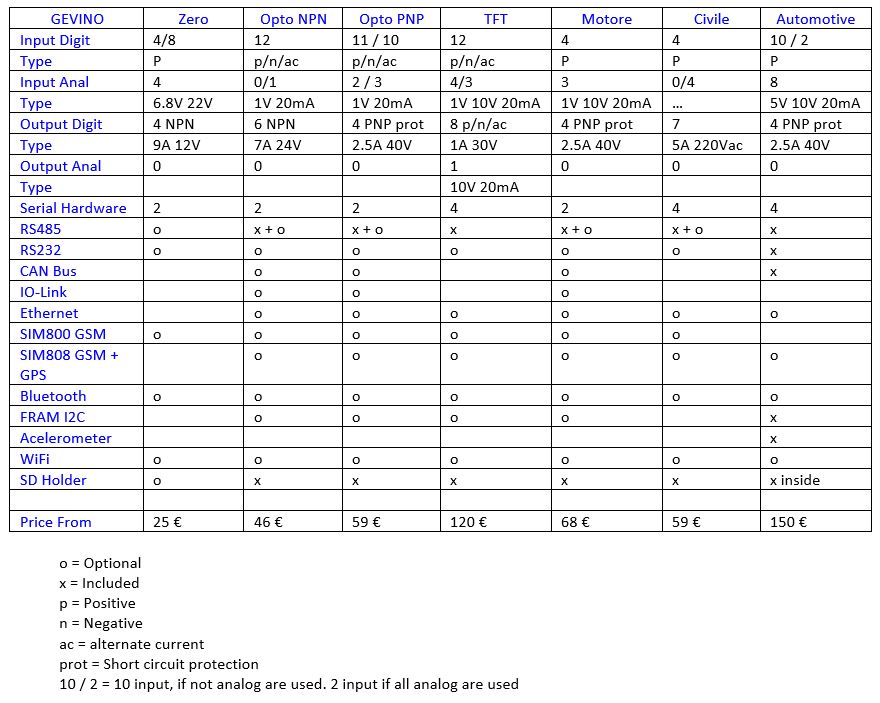 follow us on Facebook
No customer reviews for the moment.